Waist-cut city bomber jackets with warm & ultra-light down fitted for any style.
A selection of waist-cut city bombers. Warm and lightweight fitted coats for any style.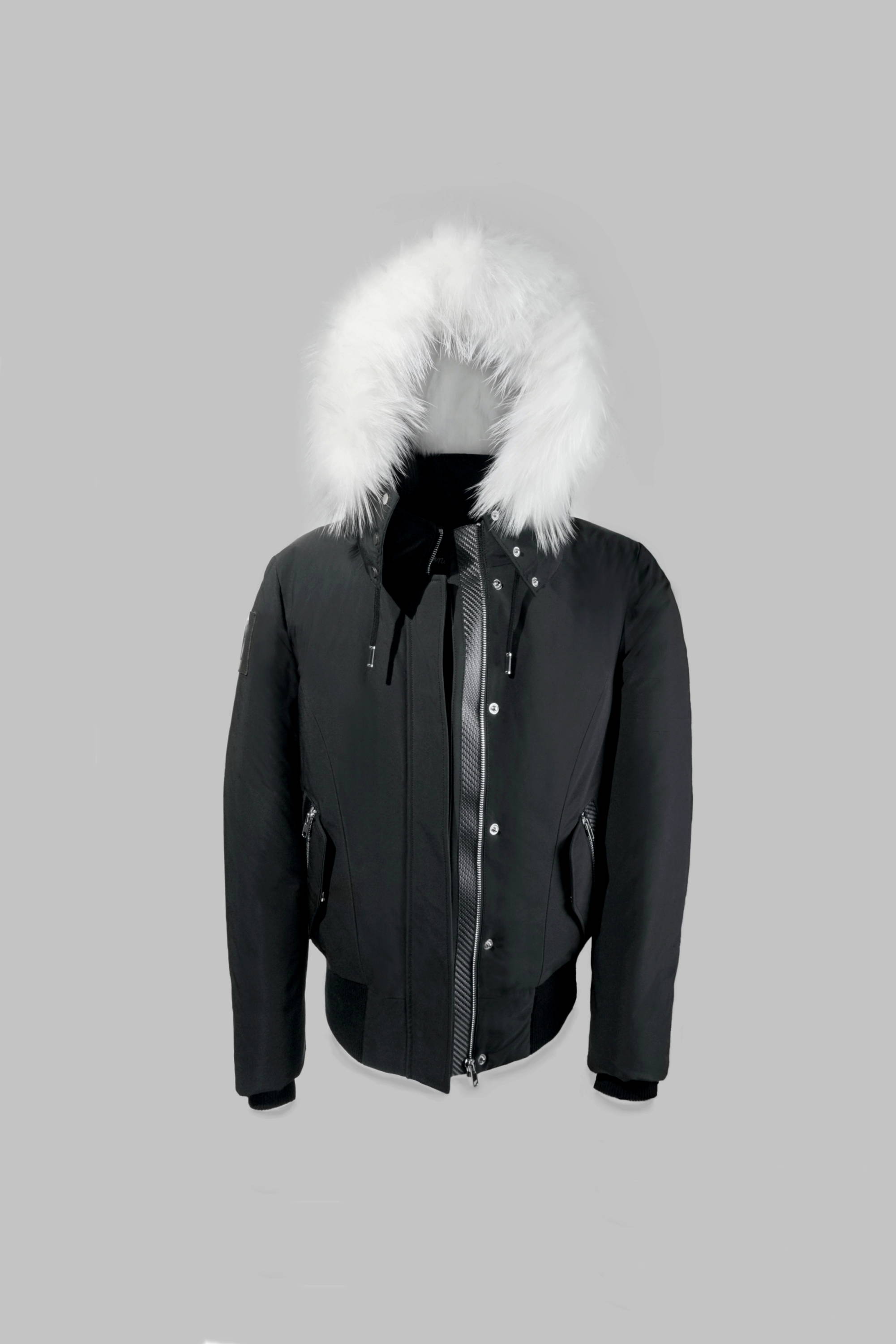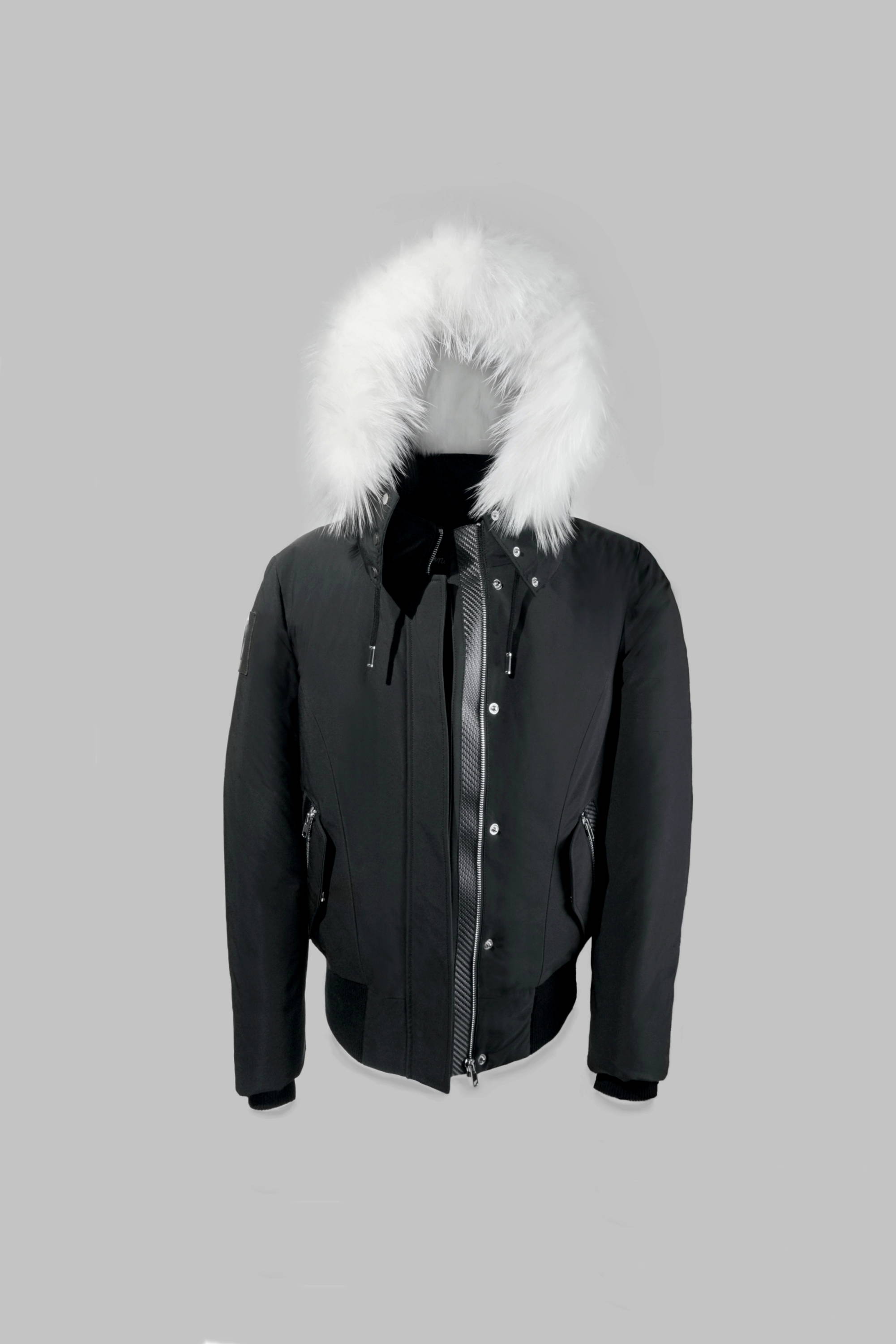 Black with white winter bomber
Black with white winter bomber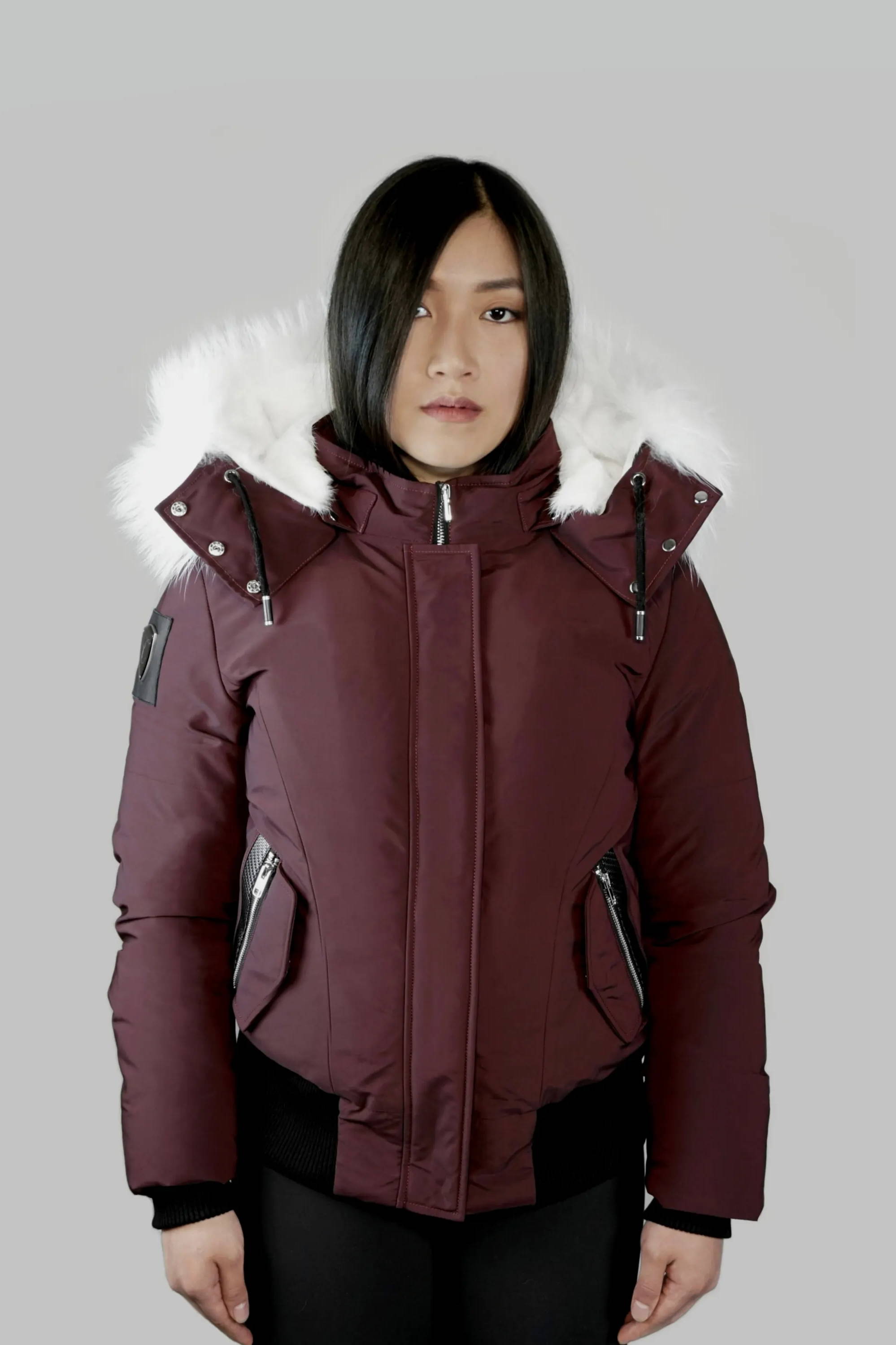 Burgundy with white winter bomber
Burgundy with white winter bomber
Every size is carefully engineered to ensure comfort & function. You'll fall in love on your first try.
Carbonesque Women's Jackets
Womens Bomber Jackets continuously top the style guides for colder weather every year, proving an iconic style popular among women. Carbonesque Bomber Jackets for women are luxurious and fashionably timeless. The brand believes in versatility and longevity, handcrafting women's bombers with premium materials such as wool, leather and carbon fiber for jackets that are both light, warm and endure functionality. The advancement in the making of bomber jackets fulfills the requirement of brisk Canadian weather while maintaining personal style. 
The exceptional craftsmanship features include custom reflective fabric to instantly limit the absorption of water and snow, and are filled with the highest quality goose down feathers to protect against the cold. Temperature-tolerant products are also utilized; the unique chemical property ensures that these jackets are durable, and the aftercare is easy and long-lasting. These designs keep you looking sleek and feeling distinguished wherever you go. Complete any of your causal outfits this season with contemporary women's bomber designs that are carefully crafted for a stylish impact. 
Carbonesque is equipped to serve you fashionable and high-quality products. Check the expansive women's bomber jacket selection on the online store and create a lasting impression! Visit the website and shop for your perfect womens bomber jacket now at  Carbonesque.
The history of the Bomber Jacket is rich. It is a staple that emerged out of functionality and necessity. During the World War and the era of propeller aircrafts, pilots wore leather jackets, including A-2, which helped evolve the modern flight jacket. Originally produced by Dobbs industries exclusively for the US Air Force and Navy Fighter Pilots, Bomber Jackers proved warm and were held at high standards. They sported elastic sleeves and waistband, a high collar and pockets in the front. However, the A-2 was not water resistant. Wet from the rain and being at a high altitude caused the coats to freeze and be heavy and uncomfortable to wear. In response, the B-15 was introduced.
Furthermore, the invention of the jet aircraft required advanced Bomber Jacket designs that took up lesser space in the cockpit. A lightweight, warm, and waterproof jacket was essential for this purpose. Nylon became the first choice of material for Bomber Jackets After World War II in 1945 because of its simple aftercare method, water-resistant nature and protection from mildew, insects and moisture. It didn't take long for women to adopt this style. Short nylon and tight-fitted blouse styles became prominent features for women's coats in the late 1970s, gaining more popularity in 1979-1980. Throughout the rest of the 20th century, military wear and Bomber Jackets spiked in favour amongst civilians. New designs and ideas were introduced to meet the demand, and teenagers wore plain shirts and denim to style themselves at their best. 
A Bomber Jacket is the most sought-after and timeless closet staple for the cold weather. Its classic style can be styled for every occasion, making it an extremely versatile piece. Wear your jacket on a causal walk or to your workplace, for your for casual gatherings and fancier parties and dinners. Carbonesque has a wide range of sleek coats in both long and short designs to keep you warm no matter the occasion. While there is no specific time to wear a bomber coat, they look elegant, the solid colours look elegant in in both nighttime and daytime gathers. 
All in all, the women's bomber designs are fashionable and effortlessly styled to look chic. No matter the occasion, these bomber coats are versatile. Don't worry about filling your fall wardrobe with new staples time and time again. Your perfect bomber jacket is waiting for you today at Carbonesque.
We know size matters. A properly fitting coat gives you the sleek and stylish look you imagine yourself in. Visit our size guide for further assistance in finding your perfect size Here.